Spring Break 2021 in Panama City Beach, Fl
Today when people speak about "Spring Break" in the U.S., they think about Panama City Beach, Florida (PCB).
Located on the Florida panhandle PCB has over 27 miles of dazzlingly-white beaches on the Florida Gulf Coast.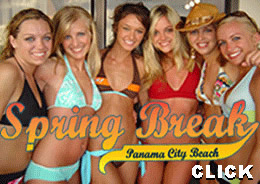 Panama City's moderate prices, outrageous nightlife and Spring Break activities at the many bars and clubs located on the beach have made it a popular destination for knowledgable Spring Breakers.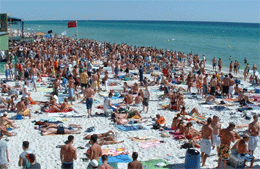 For many years, MTV considered Panama City as a destination of choice for its official coverage of Spring Break.
More than 500,000 students have made Spring Break in Panama City Beaches their destination for the past couple of years.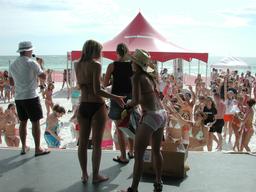 There are many hotels and codos that have special deals for Spring Break.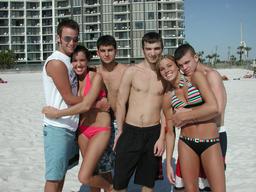 Spring Break Central during the day is the Holiday Inn SunSpree, on the west side of town where most of the hotels are located. They have a beachside stage with activities scheduled most of the day.

You will also find that most of the corporate sponsored events are staged at the Sunspree beach or over at Club la Vela.
Fast food and a supermarket are within walking distance of the hotel and they have a refrigerator and microwave in each room. So, even if you are not staying in the Sunspree try to hook up with someone that is.... The Sunspree does have a beachside grill for pizza, dogs, burgers and beer and a beachside bar. If you opt for a tour operator's meal program, you may find that some of the meals are served there.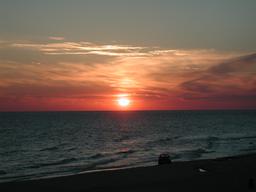 Don't expect to do any surfing; PCB is on the Gulf of Mexico, and the water is pretty flat. You can rent jet skies and sailboats from one of the vendors just off the Sunspree beach property. parasailing vendor, Just make sure that you bring your iPod, some SPF-15, a good cooler and safety gear. It is a good bet that if you are not in bed recovering, you are going to be tanning on the beach till the sun goes down.
When the sun goes down, plan on being at the world famous Sharkys Beach Bash as seen on MTV. Every Tuesday this event of 4000 breakers is sold out! It is a Must Party! Finish off the day when dusk comes with the original Pub-Crawl as seen on Girls Gone Wild. This limited space event will have up to 10 motorcoaches bringing you into the heart of the five hottest clubs and ending at Club La Vela. For seven weeks a year Panama City Beach turns into the worlds largest strip with it's own free shuttle service from beachside hotels to all of the major bars and nightclubs like Club La Vela, Hammerhead Fred's, Sharkys, Calypsos Caribbean Bar & Grill and Hooters.
Since the volume of fun is directly proportional to the size of the party you will find that it is a good idea to hangout where the scheduled theme parties are. The clubs do have a cover and most of the time the lines are long to get in. If you don't want to deal with that #*% you need to get a "Panamaniac Party Card " your passport to free cover, beer and t-shirts as well as local discounts.
PCB 2021 Events
Foam & Glow Paint Parties Mar 4 - 25
Beach Concerts 12 Noon - Trey Lewis - Mar 10 & 17
Concert 9 PM - WAKA FLOCKA FLAME - Mar 18
Top Ten Tips for PCB
Drinking Panama City no longer allows you to drink on the beach or in parking lots during Spring Break, also no glass bottles are allowed on the beach!
How many bars are there?There are huge clubs and bars that really cater to students during Spring Break.Coyote Ugly, LongBoards, Harpoon Harry's, Sharky's and Hamerhead Fred's.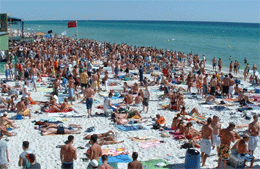 Party Cards like the LongBoards VIP Card and the Panamanic Club Card are avilable to get you into the best parties at a bargin price.
There are corporate sponsored events during the day by Sports Illustrated, Jansen, National Lampoon, etc. Most of the activities and contests takes place on the beach behind major hotels or over at the larger clubs.
Marketing companies like the CMG agency help to bring corporate sponsored events to PCB from companies like Sports Illustrated, Jansen, National Lampoon, etc.
Many of the hotels have rooms with kitchens, you need to book early if you want one.
Save about $95 per person, there are no expensive departure taxes, like you fill find in Jamaica, Cancun, Acapulco and Nassau.
The drinking age in Florida is 21 but you can get into the bars and clubs if you are at least 18. And yes, the bars and clubs are very strict on IDs.
There is plenty of "fast food" beachside, several supermarkets, and a Walmart. The local mall and city stores are 15 minutes away, depending on traffic.
Expect to spend between 200-300 dollars during your trip..
Remember to protect yourself with SPF 15 Sunblock every day.
Spring Break News
NO booze, NO deep holes and NO balcony jumping in Panama City Beach for spring break
PANAMA CITY NEWS HERALD | 2/22/2021 | SPRING BREAK BEACH RULES IN PCB The Panama City Beach Police Department issued a statement recently reminding beachgoers about the rules in the month of March regarding alcohol and other activities on the Beach.
---
Panama City Beach limits special event crowds to 125-person limit during Spring Break because of COVID-19
PANAMA CITY NEWS HERALD | 2/25/2021 | Panama City Beach limits special event crowds during Spring Break because of COVID-19. This new restriction will be in addition to the city's annual March alcohol ban on the beach.
A slow recovery underway for Spring Break in Panama City Beach. Early figures on revenue for March of this year showed an increase of 19.2 percent over the 2016 revenue loss after enacting the new "Spring Beak Ordances."
OUR VIEW: Signal for a fun Spring Break
Panama City News Herald | There are signs of things being toned down this Spring Break by law enforcement......
---