Spring Break 2018 Negril
If you really want to get away from the pressure of school, Negril offers an unspoiled 7 mile stretch of white sand beaches crowned by the low lying cliffs of the West End for a laid back Spring Break. In the quest of an endless summer and awesome sunsets, this once sleepy little fishing village was discovered by hippies during the 60's.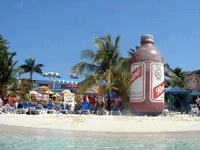 Today, tour operators offer attractive travel packages to this Spring Break 2016 dream destination. Negril is a clothing optional beach dotted with small beachfront hotels, thatched roof bars and restaurants overlooking the water.
In order to keep that unspoiled island feeling, the local zoning laws limit the height of new buildings to treetop level. Today, there some 20-30 small hotels and/or luxury properties that offer beachside lodging.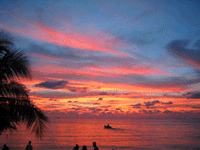 The most desirable places to stay are the small cliff-side inns or the larger beachfront hotels that have the most amenities. However, you may find that it is a good idea to take a good look at your hotel before booking. There are also several private villas that you can rent by the week if money is no problem.
Once you have arrived at your hotel, you can relax on the beach, or go on an island adventure climbing one of the many waterfalls or jumping from the 45 foot cliffs at the Pickled Parrot.
Be sure to take the day trip to Y Falls, and use the rope swing to jump into the water and go swimming.
Water sports activities abound. If you are into sailing, you can go windsurfing, Sunfish sailing, or take a daylong sailing trip to Bloody Bay where you'll enjoy basking in the sun, snorkeling, and partying on your own private beach! Ocean Kayaking and Jungle River Rafting worth exploring!
As the day come to an end, celebrate the famous Negril sunset with a rum punch and get ready to party. Or if you want to make it an evening event go for a Sunset Cruise along Negril's scenic cliffs for a phenomena view of the setting sun.
After the sun sets, it is time to party as Negril's beaches and cliffs come alive with the sounds of reggae music. If you want to avoid the lines and save on cover fees, make sure that you get a "Platinum Party Passport" and voucher from one of the tour operators. On Monday night, Hotel Sam Sara's concerts feature the likes of Ziggy Marley, Beannie Man, Shaggy and more! Theme parties at Legends Beach Bar, Coral Seas Beach and Margaritaville light up the beach. It is crackling bonfires and pulsating rhythm of reggae music that creates that special Jamaican feeling. This is why people come back to Negril again and again.
Traveling Smarter in 2016
What can you do right this instant to be safer on your Spring Break 2016 trip?
just sign up for the U.S. government's Smart Traveler Enrollment Program. It's fast, free, and in the govs' own words, "It allows the State Department to assist U.S. citizens in an emergency and keep you up to date with important safety and security announcements."
While you are on the State department Website
Make a note of the U.S. consulate or consular agency closest to where you're staying. At travel.state.gov, look under Country Specific Information for a list of agencies in your destination. Send an email to yourself and fellow travellers and enter the information in your cellphone.
There an app for that too!
Download the Smart Traveler Program app for iPhone and Android.
Spring Break 2018 News
How to Plan Your Spring Break 2018 in Jamaica
Uloop | If you're feeling the least bit overwhelmed by planning a Spring Break trip all the way to Jamaica, look into the following sites:
---
Negrils Top Clubs
If you are looking for the biggest parties, the hottest clubs and the most high profile events, check to see where the parties hosted by tour operators are hosting their nightly parties, there will be more people at those clubs.
Top Ten Tips for Negril
The official currency of Jamaica is the Jamaican Dollar. The current Exchange Rate in Jamaica is fluctuating between 36 and 40 Jamaican dollars to 1 U.S. dollar.
It is best not to exchange money at the airport; their rate tends to run low. The best exchange rates tend to be at the Cambio's (located at various spots throughout Montego Bay and Negril), banks or hotels. Do not exchange all of your money when you get to Jamaica. It's best to exchange it as needed; you will lose money converting Jamaican dollars back to U.S. dollars when you depart Jamaica.
Local transporation is by taxi, they are literally everywhere. Only the taxis with with red licence tags with white numbers have been approved Jamaican Tourist Board and also have the required insurance. Remember to always agree on a price in Jamaican Dollars before getting into the cab. Fares are aboout $1 or$2, per person. A cab ride from the Cliffs to the Beach will cost about $100 Jamaican ($2 U.S.) per person. Better prices can be negotiated with large groups. Remember to stick with the buddy system and do not ride alone. Be sure to set your price with the driver BEFORE you enter their taxi!
You can walk from the far end of the beach to town in under an hour on the beach. Walk along the beach line to where the trees block the way and then walk on the grass grass along the water and you will stumble into the tourist market at the edge of town. There are coconuts and sugar cane for sale in the parking lot. It is a great way to avoid the taxi tax and stay off the road!
Collect phone calls to home are $$$$, about $10 U.S. for every 3 minutes. Purchase a Jamaican Calling Card when you arrive. A 5-minute calling card usually costs about $200 Jamaicanthat is about one dollar U.S. per minute.There are also a few Cyber Café locations where you can email home.
There is no dress code in Jamaica. Unlike some SpringBreak destinations, shorts, t-shirts and flip-flops will work just fine 24 X 7.
Remember to protect yourself with SPF 15 Sunblock every day.