Grand Bahama Island
Grand Bahama is an island paradise conveniently located less than 100 miles from Miami and is a popular low cost destination for Spring Break 2016.
The island is well known for its rambling, reef-protected shoreline with its many cays and white-sand beaches. It is this close proximity to the United States that has stimulated the development of the island's many resorts and casinos.
Spring Break Tour operators book most of the available space on the cruiseships, which provide transportation to the island daily, and thus they handle most of the available rooms during the Spring Break season.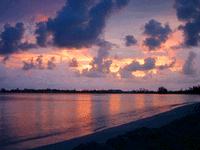 When you arrive on Grand Bahama Island, you will discover that there are two different types of beaches. Lucaya Beach, Xanadu Beach, and Taino Beach, which are adjacent to the hotels and resorts, provide activites like parasailing, snorkeling, and windsurfing, but the island also has many secluded beaches to be found by adventurous Spring Breakers.
The recommended mode of transportation is by moped or scooters, which can be rented by the day or half-day. One of the most spectacular stretches of beach is Gold Rock Beach on the eastern end of the island. It is part of the 40 acre Lucayan National Park, which is also known for its many caves and is only one of the many eco-tourism sites on the eastern end of the island.
When you get tired of exploring the beaches, you can go hang out with a pod of Atlantic bottlenose dolphins at the (UNEXSO). Scuba training is available and they offer snorkling and dive packages for individuals and groups. They have a decompression chamber on premises that might help your recovery if you have a really bad hangover.
If you want to expore the Grand Bahama's underwater life, but don't want to get your feet wet, The Mermaid Kitty (said to be the world's largest glass bottom boat) has daily sightseeing tours.
Most tourists also find their way to the many shops on the island. While you are down near the UNEXSO dock, you will also find the Port Lucaya Marketplace and Marina with its upscale shopping, dining, and amusement center. Adjacent to the casino, you will find the International Bazaar and the Straw Market. The International Bazaar has several shops and boutiques and with products from a variety of countries. There is also the Straw Market with hats, mats, and baskets, and other local trinkets to be found in shops around the island.
Freeport/Lucaya would not qualify as a Spring Break destination if it didn't have an abundent supply of nightime activities. In addition to the hotel bars, the Port Lucaya Marketplace has over a half a dozen different bars and pubs to explore. You will also want to check out the music in Count Basie Square.
There is an ample supply of nitespots, where you can get a taste of the local sounds, find several discos where you can dance almost 'til dawn, and visit two casinos with virtually non-stop action. And you can always find a beachside bar, where you can toss back Bahama Mamas and enjoy the moonlight beach.
You will find that food is moderately priced as in any resort area. It does need to be flown over from the U.S., so it is a little bit more expensive than usual. Fast food like Burger King, Subway, Wendy's, and KFC are available and are not that much more than what you would find in the States. Sit-down restaurants can be expensive depending on where you go and what you order.
Traveling Smarter in 2016
What can you do right this instant to be safer on Spring Break?
Just sign up for the U.S. government's Smart Traveler Enrollment Program. It's fast, free, and in the govs' own words, "It allows the State Department to assist U.S. citizens in an emergency and keep you up to date with important safety and security announcements."
While you are on the State department Website
Make a note of the U.S. consulate or consular agency closest to where you're staying. At travel.state.gov, look under Country Specific Information for a list of agencies in your destination. Send an email to yourself and fellow travellers and enter the information in your cellphone.
There an app for that too!
Download the Smart Traveler Program app for iPhone and Android.
Top Ten Tips
Bahamas Dollars (BSD) are equal in value to the American Dollar. American currency is accepted (sometimes even preferred) everywhere.
Taxis are usually waiting for visitors on arrival at the airport and sea port. Cabs are also available by phone. Be aware that some unscrupulous taxi drivers insist there is a "service fee" or "bag handling fee," only pay the fare, and a tip if appropriate.
If you rent a car, motorcycle, or buggy, remember that you drive on the left side of the road and that the locals drive aggressively.
Many of the hotels have their own shuttles and provide transport services to various points of interest around the island.
There are also minivans that provide public transport and ferry locals around the island. It is a dollar to take the local bus line anywhere on the island. They run about every 15 minutes, however they will often wait until they have a full load before departing.
At restraunts, check your bill carefully as some restaurants and bars include a 15% service charge in the bill. If not a standard 15% tip is appreciated.
Stay safe by sticking to the tourist areas that are heavily policed and kept exceptionally safe. Do not not venture outside these areas alone.
It is imperative that safe sex be practiced. The Bahamas as a nation holds the third-highest rate of HIV and AIDS infection in the world.