Suiting Up for 2018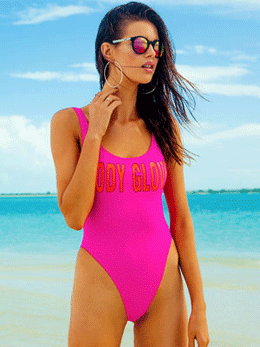 The Body Glove Swim Line
Inspired by the beauty of island life in the Bahamas where this season's photo shoot took place, the 2017 collection features punchy colors and a new twist on neoprene-like fabric, which is what put Body Glove on the map as the top women's surf-lifestyle swimwear brand back in the 1980s. See More Suits
Designed for evening jogs on the beach, outdoor yoga and SUP sessions with friends, Breathe by Body Glove embraces a lifestyle that goes beyond the gym.
The Breathe collection includes a full line of lightweight and quick-dry clothing for running, surfing and standup paddlingThe line features a series of ultra graphic bodies and new colorful prints that can mix and-match with Body Glove's Smoothies solids. These super-stretchy made to wear in the water, on land and even in the sand are perfect for Spring Break.
---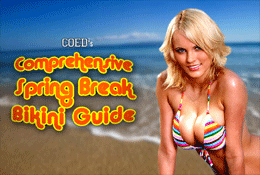 Did you know that there are 19 different kinds of Bikinis?
COED Magazine's comprehensive Spring Break Bikini Guide provides examples of the Bandeaukini, Bikini, Short Bikini, Camikini, Clip Bikini, Microkini, Monokini, Numokini, Pubikini, Seekini, Tankini, Trikini and the Unikini.
You're on Spring Break and you want to get noticed for all the right reasons. And guess what.. beach fashion isn't just for women anymore. There's no need to fear the dressing room. This is the 40th anniversary of the Summer of Love and designers have turned up theheat and come up with an assortment of swimwear for both sexes.
Spring Break 2017 News Links
Cosmo | The 10 Hottest Trends From Miami Swim Fashion Week
The bad news is that most of the swimsuits that walked the runway at Miami Swim Fashion Week will not be available to buy until 2017. (See YT Clip Top Left) The good news is that many of the trends that made this season so fun and sexy are available right now.....
---
NY Times Review of Men's Fashion Designs for Spring 2017
5 Surprising Trends From a Month of Men's Fashion Events | A look back at the men's wear trends that have emerged.....
---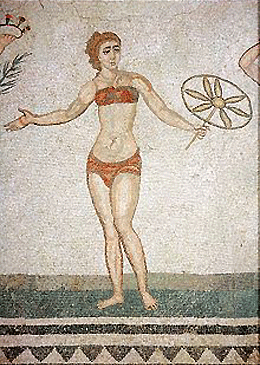 The Bikini Re-Introduced 70 Years Ago
The 300 AD fashion trend was re-introduced after first Atomic Bomb test at Bikini Atoll on 1946.....(See YT Clip Bottom Left)
---
For Guys....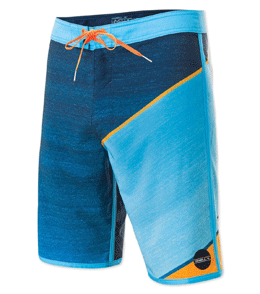 Styles run the gamut from sunny retro board short to surfer chic. And heck, who said you had to be a surfer to dress like one?
O'Neill, California Surf Lifestyle Brand
Tech Tip: While most boardshorts fall down due to the discrepancy between the waist size and the length needed, Just Bones Boardwear™ revolutionizes boardshorts have a discretely hidden Velcro® flap in the waistband in the back....
---