Lake Havasu
Lake Havasu Voted Best Spring Break 2022 destination in the West!
Lake Havasu has become legendary for its wild boat parties and Spring Break shenanigans and it's reputation as a Spring Break destination continues to grow. The peak time for Spring Break 2022 at Lake Havasu will be March 6th to March 13th, when Arizona State University has it's Spring Break.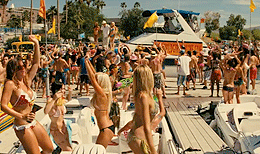 Lake Havasu used to be nothing more than a very remote part of the Colorado River until the construction of the Parker Dam in 1938. The dam is over 320 feet high and it created a 45-mile-long reservoir perfect for boating with over 3.5 million visitors a year.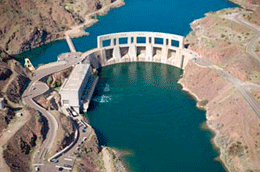 Boating is not optional. If you don't have access to a boat, your will have to find a way to get to Copper Canyon or the sand bar. Boat rentals are plentiful, expect to spend $300 per day or more.
You can grab a Lake Havasu boat rental at Windsor Beach Rentals, located inside Lake Havasu State Park about 1 1/2 miles north of London Bridge which connects Lake Havasu City to Lake Havasu Island, which is also a popular gathering place for boaters. The Bridgewater Channel is anchored by the London Bridge Resort, which offers nightly condo rentals, and the boutique Lake Havasu hotel.
If you want to spend your spring Break 2022 at a never ending floating party, Lake Havasu if the place.
When the sun goes down head for Kokomo the largest and hottest nightclub on the river.
---
Inside Lake Havasu, the Wettest Spring-Break Party in America
Photp essay of the Wettest Spring-Break Party at Lake Havasu.
---
Lake Havasu Spring Break recap
The Republic | Our photographers spent the weekend at Lake Havasu City, one of the hottest spring break locations....
---
Lake Havasu 2022 News
Tinder Rolls Out Spring Break Mode
Tinder Blog | Get on Tinder and look for the Spring Break card. From there, you can add your Spring Break destination to see who's going where. Let's face it, the party is always wherever you're at.
---
Piranha 3D The Movie
Lake Havasu the home of the floating Spring Break party scene was used as the location for the story line of Piranha 3D. "Lake Victoria" – is the fictional tourist destination where spring breakers are attacked by Prehistoric Piranha released by an underwater fissure.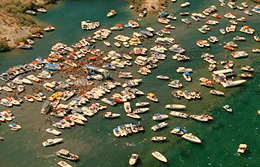 Piranha 3D pays homage to the action thriller B- Horror flcks spawned from the classic 1975 film "Jaws". The original Piranha movie produced by Roger Corman was released in 1978 followed by the sequel Piranha II in 1981.
Although the film was shot in 2-D and then converted to 3D. It is about piranhas... in 3-D. Do you really need to know anything more? The French director Alexandre Aja uses 3-D just as you would expect with this film genre.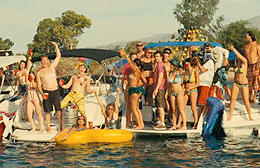 You are sprayed with beer from a keg as the student shoots right at the audience. A Co-ed drunk from too many tequila shots and loses her lunch off the side of the boat and into the audiences lap. And of course there are the Piranha, zooming right at you from the screen, ready to bite you.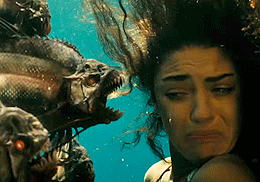 If you are into gorey B- Horror flicks you should get to the theater now now for any evening screening.