Acapulco, Mexico
Days in Acapulco are meant for recovering from the nights. Whatever methods of "recovery" and relaxation you decide upon are up to you. The beaches here are endless. You just can't beat a lazy day on the beach enjoying the breeze, the surf and the sun while keeping your cool with a tall tropical drink.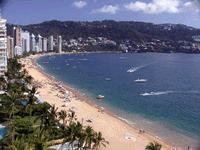 But hey, if you are really wasted, make sure you are staying in a hotel used by the major Spring Break tour operators, there should be a pool party within walking distance.
Once you have recovered, there are many "tourista" daytime activities to keep you busy. If you are into exploring, there is the historic fort Fuerte de San Diego. Built in the 1600's to defend against raiding pirates, the fort has been refurbished and converted into a historical museum.
For the aficionados of bullfighting, Acapulco boasts the second largest arena in Mexico. The Acapulco bullfighting ring is a smaller version of the one in Mexico City, but its crowd is as vociferous and colorful. Bullfights start at about 5:30 P.M.
If you are up before noon, at 1:00 the world-famous divers of La Quebrada, yeah.. you have seen it in the movies... they dive 136 feet from the rocky cliffs into crashing surf below.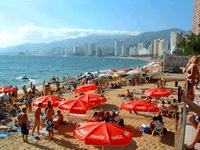 The city is home to clubs that are among the most impressive in the world. Palladium is the largest and the most popular, with a dance floor surrounded by a panoramic view of Acapulco Bay from the cliffs. Enigma is the height of elegance with it's ancient Egyptian theme. There's also Baby'O, the club that started it all; Alebrije, arguably the local favorite; Disco Beach, located directly on the beach and home of the famous foam parties. You can go club hopping on your own, but if you want to avoid the long lines and cover charges, it is a good idea to purchase a party package offered by one of the tour operators.
Like any large resort destination, the are specific properties that cater to Spring Breakers. In Acapulco, the Spring Break area stretches from Condesa Beach to the Hyatt Hotel. The LaPalpa Hotel features the most popular daytime pool parties with live music and contests. There are also many inexpensive restaurants and shops in this area. And if there is something you forgot to bring with you, there is a Walmart.
Before you leave for Spring Break, check back for our event schedule and any late breaking news!
Since the volume of fun is directly proportional to the size of the party you will find that it is a good idea to hangout where the scheduled tour operator parties are.
Traveling Smarter
What can you do right this instant to be safer on Spring Break?
just sign up for the U.S. government's Smart Traveler Enrollment Program. It's fast, free, and in the govs' own words, "It allows the State Department to assist U.S. citizens in an emergency and keep you up to date with important safety and security announcements."
While you are on the State department Website
Make a note of the U.S. consulate or consular agency closest to where you're staying. At travel.state.gov, look under Country Specific Information for a list of agencies in your destination. Send an email to yourself and fellow travellers and enter the information in your cellphone.
There an app for that too!
Download the Smart Traveler Program app for iPhone and Android.
Travel Advisory
Mexico Travel Advisory Level 2: Exercise increased caution
US State Depatment | Exercise increased caution in Mexico due to crime. Some areas have increased risk. Read the entire Travel Advisory.
---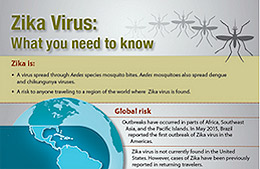 CDC Travel Notices are designed to inform travelers about current health issues related to specific destinations. These issues may arise from disease outbreaks, special events or gatherings, natural disasters, or other conditions that may affect travelers' health.
Top Clubs
If you are looking for the biggest parties, the hottest clubs and the most high profile events, check to see where the parties hosted by tour operators are hosting their nightly parties, there will be more people at those clubs.
The night clubs on most of the party programs from the major tour operators are:
Baby'O Expect to pay at least a $600 pesos cover charge and $80-$150 pesos for a drink.
Classico del Mar Not a expensive as Baby'O but it doesn't have open bar as Alebrije, Palladium or Mandara
Disco Beach - Features a large dance floor fronting the Condesa beach(main beach).
El Alebrije Expect to pay $400 Pesos for men and $350 Pesos for women.
IBIZA - A lounge club on the beach that features mainly electronic music.
Mandara A smaller version of Palladium(same owners) featuring hip-hop and reggae.
Palladium Expect to pay ~$400 Pesos for men and $350 and tipping is also a good idea if you want prompt service.
Top 10 Tips
If you are planning to go to Mexico, the State Department has issued a Travel Advisory for Mexico and has some Travel Tips for Spring Break.
Some of the beaches you can go hang-out don't have restrooms available, so consider using one before you head-out.
Dress codes are enforced in the clubs at night. Guys: long pants and nice shirt.
Use the local bus system to get around; it only costs 5 pesos (50 cents US) Buses run in both directions so there is never too long of a wait. The bus is an excellent way to meet other SpringBreakers! There is no point in wasting money on a taxi when the bus system is fast, safe so inexpensive. They run 24 hour a day.
If you decide to use a taxi, look for a government certified taxi. They have a license with a photo of the driver and a taxi number prominently displayed. Most of them have a meter, although, more often than not, it is broken. Many drivers will ask you what you want to pay to get a sense of how street-smart you are so ask the doorman or someone at the front desk about acceptable fares.. Always choose your taxi, don't let the taxi choose you. Never share a taxi with strangers nor allow the driver to pick up additional passengers. Agree upon a price before you get into the taxi.
There is a WalMart across from the Hyatt Regency; usually the cheapest place for everything you might need. Be sure and visit one of the local craft markets, but remember to haggle for a good price.
If you want to save money and time, get a party card from one of the tour operators, you will save money on cover charges, maybe some on drinks, plus you get in faster without having to wait in line to pay conver charges.
Money is tight on Spring Break but tip your service staff: housekeeping, bartenders, waiters, etc. well if you are good to them, they will be good to you! Bartenders are an excellent source of information, etc.
Stick to bottled water and drinks that you know won't give you Montezuma's revenge.
Bring between $250- $450 in Travelers Check plus a credit card just in case. Exchange enough money to last you about two days, take enough to spend each time you go out, leave the rest in the safe.
The currency is the Mexican Peso. It is best to convert dollars to pesos at your hotel or a bank. If you exchange currency at a store or market you will may end up with fewer pesos.
Collect phone calls home are $$$$ Purchase a Telmex pre-paid calling card when you arrive. They available at any convenience store or hotel shop; the rate is 10 pesos/minute, there are 3, 5, 10 minute cards. The cards work with Telmex pay phones,which have a language button on the phone that will give you instructions in English.
Remember to protect yourself with SPF 15 Sunblock every day.