Cruises for 2018
One of the most popular ways to spend your time during Spring Break is on one of the many cruise ships that make port calls in the Caribbean.
There are a couple of Spring Break "themed cruises" offer by several tour operators that have special Spring Break 2017 events onboard during the cruise.
The major cruise lines offering 3-5 day cruises during Spring Break 2018 are Carnival, Norwegian, and Royal Caribbean. You can find a listing of cruises on Expedia that will give you a good overview of many of the cruises available.
Last year, Appalachia Travel introduced a new ISLAND HOPPER cruise package with starts in Orlando and includes stops in Nassau and CocoKay in the Bahamas.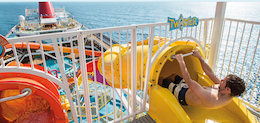 Cruises & Stay Packages
There are also cruise packages for students that include 4 nights on Grand Bahama Island and other Spring Break destinations. One of the most popular offerings is Appalachia Travel's CRUZE-N-STAY Spring Break 2018 package for Grand Bahama Island.
Your Spring Break adventure begins with a morning departure from Port Everglades in Ft. Lauderdale. The trip from the U.S. to Freeport, on Grand Bahama Island takes 3 hours.
After 5 days of fun and sun in the Bahamas you cruise back to Fl. Lauderdale arriving sometime between 9-11pm. Most tour packages include the roundtrip cruise, roundtrip taxi transfers, hotel in the Bahamas for 5 days. Meals, parties, drinks, cover charges and taxes may vary depending on the tour operator, so be sure to check on the specifics.
Spring Break Cruises 101
First, most Spring Break Cruises are not "all-in­clu­sive." The week­long cruise you see ad­ver­tised from $199 may sound great, but be sure you read the fine print.
Tax­es and port charges (the per-pas­sen­ger port charge for boarding), crew gra­tu­ities and the cost of a drink plan are not in­clud­ed in the ad­ver­tised pric­e and they can really add up. The ad­ver­tised price of is generally for in­side cab­ins with­out a view, so you will have to pay more for a room with a view or a balcony.
Cruise pric­ing is based on dou­ble oc­cu­pan­cy, two peo­ple in a cab­in. If three peo­ple share a cab­in and split the cost, you might be able to save some money.
In most cas­es, your cruise will in­clude ac­com­mo­da­tions, ba­sic meals, night­time en­ter­tain­ment, and most day­time ac­tiv­ities, but once you step on board any additional services, drinks or snacks are ala carte and add up quick­ly.
It is a good idea to set an on­board spend­ing bud­get for everybody in your group be­fore you leave home and then keep keep track of ev­ery­thing you spend so you are not suprised when you get your fi­nal bill at the end of the cruise.
You can check your account at the purs­er's desk and some ships have Interactive TVs and you can check your account in your cabin.
Carnival Cruise Line Alcohol Policy
Norwegian Cruise Line Alcohol Policy
Royal Caribbean Alcohol Policy
Passports Needed
Travel outside the United States now requires a U.S. Passport for re-entry when you return home and many countries also require a passort for entry. Remember it takes six weeks after you submit your application.
Port Everglades, Ft. Lauderdale
Port Everglades Map
Directions to Main entrance.
Take I-595 East straight into the port (I-595 become Eller Drive once inside the Port). I-595 runs east/west with connections to the Fort Lauderdale/Hollywood International Airport, U.S.1, I-95, State Road 7 (441), Florida's Turnpike, Sawgrass Expressway and I-75.
Directions to North entrance.
Take U.S.1 or A1A to 17th Street Causeway in Fort Lauderdale and turn south at the streetlight onto Eisenhower Blvd. US1/Federal Highway entrance. At the intersection of State Road 84 East and U.S.1 (Federal Hwy.), turn east into the seaport.
Click on Map for larger image.