Montego Bay
Mo-Bay, as the locals call it is considered to be the capital of Spring Break 2016 in Jamaica according to several Spring Break tour operators.
The three main beaches, Doctor's Cave, Cornwall and Aqua Sol, are all located along Gloucester Avenue along with all of the hotels, restaurants, shops and nightspots. The area is also know as the known as the "Hip Strip. It has sidewalks on both sides and is best visited on foot."
Montego Bay's prize asset: a dazzling bay with miles of coral reef (now designated a marine park) and three beautiful beaches, Doctor's Cave, Cornwall and Aqua Sol.Much of the coastline has been snapped up by the hotels but there are three main public beaches along the length of Gloucester Avenue, all with showers, changing rooms, snack outlets and watersports concessions and a minimal entrance fee. The area is also know as the known as the "Hip Strip. It has sidewalks on both sides and is best visited on foot."
Montego Bay was discovered at the turn of the century by Western medical practitioners looking for methods of treating arthritis and other degenerative diseases. During that time over seventy-five hydrotherapy (water-cure) institutions were founded based on the use of warm waters and the warmth of the sun to restore health and vitality.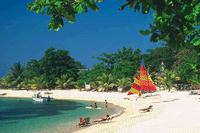 A section of Montego Bay, owned by a Dr. Alexander McCatty, was donated it to the town for development as a bathing club in 1906. The water at that time was only accessible only by descending through a small cave, hence the name "Doctor's Cave".
By 1908, Doctor's Cave with it's crystal clear water and constant temperature of between 78 to 84 degrees Fahrenheit, 22 to 28 Celsius, was being advertised in New York.
" Come South . . . to Montego Bay, the most beautiful spot in Jamaica. Here is situated the famous Doctor's Cave bathing place destined to be the favorite bathing resort of the Western Hemisphere. Leave the grim north, come south! Only four and a half days from New York."
The curative powers of the Doctor's Cave were promoted in England in the 1920's by a controversial but fashionable figure, Sir Herbert Barker. Mr. Barker, a famous British osteopath and manipulator was knighted for his ability to treat knee injuries and cartilage damage in famous athletes and social figures without the use of surgery.
As word spread, more Hotels were needed to handle the growing number of visitors to the Doctor's Cave Bathing Club. Montego Bay was on it's was to becoming an international tourist destination. During World War II, a landing strip was built in an adjacent mangrove swamp making the area accessible by air. Today, the island is a popular destination and Spring Break travel packages are offered by many tour operators.
Today, the cave is gone, but you can still restore your health and vitality at Doctor's Cave Beach , or at one of the other two beaches Cornwall, or Aqua Sol. All three beaches are all located along Gloucester Avenue, better known as the Hip Strip. Hotels, restaurants, shops and a newly rebuilt Coral Cliff casino, as well as the major clubs are all located along this strip.
If you want to skip the long lines and save money on cover fees, make sure you purchase a "Platinum Party Pass" from one of the tour operators. Doctors Cave Hotel and Margaritaville will knock your sandals off with crazy theme parties, contest and giveaways! Dance,dance, dance and when the sun comes up, hang by the pool, soak up the rays and enjoy the contests at Doctor's Cave Hotel, cruise down the winding water slide at Margaritaville or climb the 600-foot cascading waterfall of Dunn's River Falls.
Traveling Smarter
What can you do right this instant to be safer on your Spring Break 2016 trip?
just sign up for the U.S. government's Smart Traveler Enrollment Program. It's fast, free, and in the govs' own words, "It allows the State Department to assist U.S. citizens in an emergency and keep you up to date with important safety and security announcements."
While you are on the State department Website
Make a note of the U.S. consulate or consular agency closest to where you're staying. At travel.state.gov, look under Country Specific Information for a list of agencies in your destination. Send an email to yourself and fellow travellers and enter the information in your cellphone.
There an app for that too!
Download the Smart Traveler Program app for iPhone and Android.
Spring Break 2018 News
How to Plan Your Spring Break 2018 in Jamaica
Uloop | If you're feeling the least bit overwhelmed by planning a Spring Break trip all the way to Jamaica, look into the following sites:
---
Last Year's Major Events
Brit Jam is an Ultimate Spring Break party infusing British and American music with Jamaican music and culture. There are invited DJ's and artists from UK and Jamaican who showcase their talents during the entire week of March 6th-12th.
Top Clubs
If you are looking for the biggest parties, the hottest clubs and the most high profile events, check to see where the parties hosted by tour operators are hosting their nightly parties, there will be more people at those clubs.
Top Ten Tips
The official currency of Jamaica is the Jamaican Dollar. The current Exchange Rate in Jamaica is fluctuating between 36 and 40 Jamaican dollars to 1 U.S. dollar.
It is best not to exchange money at the airport; their rate tends to run low. The best exchange rates tend to be at the Cambio's (located at various spots throughout Montego Bay and Negril), banks or hotels. Do not exchange all of your money when you get to Jamaica. It's best to exchange it as needed; you will lose money converting Jamaican dollars back to U.S. dollars when you depart Jamaica.
At the airport, you will be endlessly accosted by taxis in the arrival hall to take you where-ever you need to go. Their prices are exorbitant by Jamaican standards ($10 U.S. and up), but they may be your best option if you're travelling with large amounts of luggage. Only the taxis with with red licence tags with white numbers have been approved Jamaican Tourist Board and also have the required insurance. Remember to always agree on a price in Jamaican Dollars before getting into the cab. Better prices can be negotiated with large groups. Remember to stick with the buddy system and do not ride alone. Be sure to set your price with the driver BEFORE you enter their taxi!
follow your instincts; never get into an unmarked car with someone who offers you a ride, and stick with taxi services you recognize. Ask your hotel to suggest trustworthy drivers.
The airport is very close to Gloucester Ave(Hip Strip), so if you are travelling light, it only takes about 10 minutes to walk to the north end of Gloucester from the airport. Just follow the signs and stay on the side walk.
In town, all of the buses, minibuses and route taxis arrive and depart from the transportation station off Barnett St at the south end of St James St. There's an inspector's office (7AM-6PM) inside the gate where you can ask for information about the bus you are looking for.
Collect phone calls to home are $$$$, about $10 U.S. for every 3 minutes. Purchase a Jamaican Calling Card when you arrive. A 5-minute calling card usually costs about $200 Jamaicanthat is about one dollar U.S. per minute.There are also a few Cyber Café locations where you can email home.
There is no dress code in Jamaica. Unlike some SpringBreak destinations, shorts, t-shirts and flip-flops will work just fine 24 X 7.
Remember to protect yourself with SPF 15 Sunblock every day.