Cancun 2021 Events
Spring Break 2021 in Cancun
Cancun is an astonishingly gorgeous paradise that has grown in popularity to become the top international Spring Break destination. Whatever people do in Cancun, stays in Cancun, so we don't have to tell you how crazy it can get.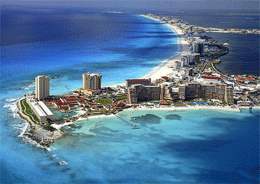 Spring Break 2021 in Cancun will undoubtedly be the best year yet. Some people are happy to do nothing more during Spring Break than enjoy the phenomenal beaches and water, soaking up the sun after a long winter, frequenting beachside bars and pool-side parties when they have the inclination or energy.
Others may choose to take a day trip to the ancient Mayan ruins at Tulum or the Temple of Kukulcan at Chichen Itza, or take a cruise from Cancun to the waters off of Cozumel. The Great Mesoamerican Reef also offers exceptional snorkeling opportunities for those who don't want to go too deep. In Puerto Morelos (23 miles south of Cancun) this reef hugs the coastline for 9 miles. It is second largest coral reef in the world. Go snorkeling or scuba diving and explore the largest dive site in the Western Hemisphere.
No matter how lazy or active you are during the day, nighttime is when Cancun really comes to life. The clubs, like La Boom, Senor Frogs,Carlos nÕ Charlies, Dady'O and Coco Bongo, entertain breakers with incredible light shows and energetic dance floors. The clubs will offer drink specials as well as contests and stage shows to keep the party going all night. Stay in one club all-night or go club hopping. The party doesn't stop until the last person leaves! The major Spring Break tour operators haveParty Programs that include theme nights at the different clubs with express entry and open bar. These are the best parties, where huge crowds gather and the dancing gets intense.
Traveling Smarter
What can you do right this instant to be safer on Spring Break?
just sign up for the U.S. government's Smart Traveler Enrollment Program. It's fast, free, and in the govs' own words, "It allows the State Department to assist U.S. citizens in an emergency and keep you up to date with important safety and security announcements."
While you are on the State department Website
Make a note of the U.S. consulate or consular agency closest to where you're staying. At travel.state.gov, look under Country Specific Information for a list of agencies in your destination. Send an email to yourself and fellow travellers and enter the information in your cellphone.
There an app for that too!
Download the Smart Traveler Program app for iPhone and Android.
Last Years News Links
A Mexican goes on spring break at Mexico's tackiest resort town
Cancun is well known among young Americans as a spring break fantasy land to get wasted, get laid, and eat too much "Mexican" food
---
Just in time for spring break, American Airlines launches four new direct flights to Cancun
In reference to the new routes, the airline said that Cancun is currently the number one tourist destination in Mexico
---
The Most Affordable Spring Break Destinations - Cancun a whopping 45 percent cheaper!
The most wallet-friendly over the entire nine-week period: Cancun (a whopping 45 percent cheaper than it was in 2015), Panama City Beach (11 percent cheaper), and San Diego (6 percent cheaper).
---
Grand Oasis Cancun presents the best Dance music festival in the Mexican Caribbean with its spectacular Oasis Beach Club as the setting accompanied by the sun, breeze and beautiful beaches of turquoise waters and all it in Cancun.
---
Victoria's Secret PINK Spring Break Party
3/14 Mandala Beach Club - Victoria's Secret PINK Spring Break Party in Cancun 12-4 p.m.
---
3/15 The City - Canadian electronic duo formed in 2012, composed of the Van den Hoefs brothers 10 p.m.
Hosted by PINK models Grace & Zuri and DJ Irie at the Mandala Beach Club in Cancun, Mexico! There will be games, giveaways, photo ops, a beauty bar and more!
---
Top Clubs
If you are looking for the biggest parties, the hottest clubs and the most high profile events, check to see where the parties hosted by tour operators are hosting their nightly parties, there will be more people at those clubs.
Top Ten Tips for Cancun
If you are planning to go to Mexico, the State Department has issued a Travel Advisory for Mexico and has some Travel Tips for Spring Break.
If you are looking for the biggest parties, the hottest clubs and the most high profile events, check to see where the parties hosted by tour operators are hosting their nightly parties, there will be more people at those clubs.
Check out hotel alternatives - A popular alternative to staying at a hotel is to rent one of the many Cancun Timeshare Condos that are available during Spring Break. Timeshares usually have more space than hotel rooms and you get a real kitchen with a full size refrigerator.
Use the local bus system to get around; it only costs 5 pesos (50 cents US) Buses run in both directions so there is never too long of a wait. The bus is an excellent way to meet other SpringBreakers! There is no point in wasting money on a taxi when the bus system is fast, safe so inexpensive. They run 24 hour a day.
Don't Rent Mopeds - they are dangerous and any if you damage a Moped, the damage charges will be payable in cash prior to your departure. Even if the damage is imaginary.
If you want to save money and time, get a party card from one of the tour operators, you will save money on cover charges, maybe some on drinks, plus you get in faster without having to wait in line to pay conver charges.
Do not urinate in public - it sounds silly, but it is taken very seriously in Cancun - you will get in more serious trouble with the authorities than you would expect.
Stick to bottled water and drinks that you know won't give you Montezuma's revenge.
Bring between $250- $450 in Travelers Check plus a credit card just in case.
Collect phone calls home are $$$$ Purchase a Telmex pre-paid calling card when you arrive. They available at any convenience store or hotel shop; the rate is 10 pesos/minute, there are 3, 5, 10 minute cards. The cards work with Telmex pay phones,which have a language button on the phone that will give you instructions in English.