Hard Rock Hotel To Open In Daytona
"Spring 2016 Opening"
Yes, it's true, Spring Breakers. A Hard Rock Hotel and Café is coming to Daytona Beach!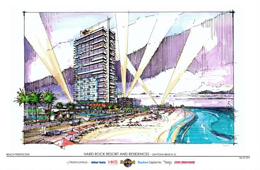 The grand opening of the the $100 million-plus Hard Rock Hotel and Cafe is anticipated early in 2016, just in time for Spring Break 2016, Bike Week and the Daytona 500. The beachfront complex will be the largest in the market, and is currently slated to feature 250 hotel rooms, 100 condominium units tht will have access to all hotel amenities and the signature Hard Rock Cafe.
First New Beachside Hotel in 20 Years
"The city and county have been working hand-in-hand to rejuvenate the city of Daytona Beach, and we're thrilled Hard Rock and Bayshore Capital have chosen 'The World's Most Famous Beach' as its newest location for expansion," said Derrick Henry, Mayor of Daytona Beach. "The synergies between Daytona Beach and Hard Rock are limitless, and we cannot wait for the brand to open the Hotel and Cafe."
TThe 375,000-square-foot development — includes two hot tubs near the beach and an outdoor bar and stage adjacent to the pool overlooking the waves. Hard Rock's world class concert schedule will help to restore Daytona Beach as a Spring Break destination.
"The gorgeous beach, hot cars, bikes, great hospitality and the sound of rock 'n' roll music together will celebrate Daytona Beach's resurgence," said Henry Wolfond, Chairman and CEO, Bayshore Capital who is funding the $100 million+ project.
The new Hard Rock Hotel, condos and restaurant will go up on a 10-acre site just south of SunSplash Park, less than a mile south of the Daytona Beach Boardwalk, Convention Center and Pier where new attractions, including a roller coaster and Joe's Crab Shack restaurant, a national eatery located on Daytona Beach's historic pier, are bringing tourists back to Daytona Beach.
Hard Rock Hotels
4th Hard Rock in Florida
Hard Rock Hotel Daytona Beach will be the brand's fourth hotel in Florida and is currently anticipated to offer two rock star suites; Body Rock® workout facility; Rock Spa®; the world famous Rock Shop® featuring Hard Rock's iconic merchandise and exceptional dining options, including a world-famous Hard Rock Cafe, where its legendary memorabilia and live music would be a favored attraction in Daytona Beach – as it is in Cafes from London to Los Angeles and Buenos Aires to Barcelona. With music at its core, Hard Rock will bring live music and entertainment to the vacation destination.
True to its musical roots, music and pop culture lovers will be treated to music memorabilia lining the walls from local and global icons, including rock 'n' roll legends, hip-hop stars and indie artists alike.
Hard Rock Hotel Daytona Beach, along with the growing collection of Hard Rock Hotels, will applaud rock 'n' roll through brand wide programs, from on-site VIBE managers who keep a pulse on the hotel, atmosphere and energy, to the groundbreaking, interactive amenity "The Sound Of Your Stay®" where guests jam out with hands-on music experiences.
Internationally recognized as a world-class entertainment and lifestyle brand, Hard Rock Hotels & Casinos offer stylish and contemporary design, unparalleled service and the thread that unites them all – music.