Spring Break at Zrce Beach
There are several Spring Break events in 2018.
Spring Break events in Europe have been promoted at several locations in Europe since at least 2008. While these events are relatively small by comparison to US Spring Break destinations like Panama City Beach and South Padre Island or Carribean destinations and Cancun, Mexico the word is spreading about this "rite of passage" to students all over the world.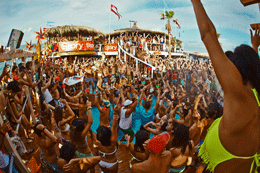 Some of the tour operators like Mox Media also specialize in "youth marketing" and work with corporations and media companies, as event sponsors and partners which helps to make Spring Break Europe have the same "look and feel" like the event in Spring Break for American students.
You can take a look at prior events by viewing the Youtube clip, upper left and there are several videos on the Croatia Spring Break Facebook site.
Top 10 Tips for Spring Break in Croatia
If you are traveling by bus or by train, you should stock up on party supplies for the trip. For most Spring Breakers, the party begins on the train or bus in route to their destination.
Don't forget your camera! Spring Break is an experience that you will remember all your life so snap away, but be careful about posting or sharing your snaps.
Spring Break activities usually include beach volleyball, football along with water sports, so pack a selection clothes for your trip.
The currency in Croatia is the Kuna. The currency exchange is usually cheaper than in Germany in Croatia. One Euro is roughly equivalent to 7.5 kuna, One Dollar is roughly equivalent to 5.57 Kuna the exact value of course varys on the day.
Currency exchange services are available in most banks, exchange offices, campgrounds, and in many hotels. Withdrawal limits at ATMs vary depending on your location, but you can usually withdraw 1600-2500 Kuna.
If you need Internet access during your Spring Break, look for an Internet shop or Internet cafes in larger cities.
If you want to rent a car you must be at least 21 years old and must have a valid driver's license.
If you are driving your own car to Spring Break, you should check your insurance policy prior to departure to see if you will have coverage in Croatia.
One of the hottest party venues is a Boat Party. You should try to book your tickets well in advance to make sure that you will be able party with your friends.
Spring Break 2014
Some picures from the event produced by Splash Line.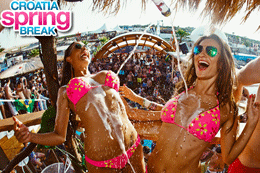 DJs performed throughout the event and there was plenty of sun bathing in between boat and beach parties.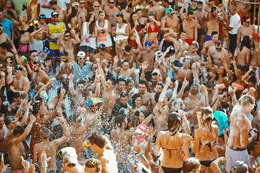 Beach Shots