National & State Parks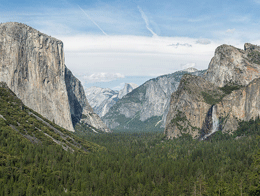 The National and State Parks in the United States offer a great opportunity for familys to explore and learn together. Many parks have accomidations that can be reserved in advance on-line. You will often find accomidations at hotel properties adjacent to the parks.
US National Parks: The Ultimate Guide for Families
TravelingMom.com | 5/22/20 | National Parks offer top destinations across the U.S. for families. It's an iconic vacation, a road trip with the kids, their snacks and the jewels of the continent.
---
National Park Service | 3/18/21 | You can find parks alphabetically by state or find them on the map provided. National parks are great places to explore anything kids can imagine. Go on an outdoor adventure. Walk in the footsteps of famous people. Take in unique scenery. Explore new interests. Experience real places you may have only heard about. But most of all, national parks are places where you can have fun and create memories that last a lifetime. Includes park schedules and reservations.
Latest Information on Events for Kids
---
Adventure-seekers flock to local state parks over busy spring break weekend
St George News | 3/27/21 | The sun is shining and the spring break crowds are taking advantage of Southern Utah's state parks, filling up campsites and parking lots to capacity.
---
Best State Parks for Families in the USA
My News 13 | 3/27/21 | "The crowds we have really been getting this year so far are all families," Miller said. "I know there is a big concern with Miami imposing the 8 o'clock curfew but I haven't seen any crowds that I would be able to identify that came from down south, it is mostly families enjoying the beach."
---
StateParks.com| 3/21/21 | America's state parks operate under a variety of names including; state forests, natural areas, national forests, national grasslands, landmarks, monuments, historic sites, geologic sites, recreation trails, memorial sites, preserves, wayside areas, heritage parks, resource centers, scenic rivers, agricultural areas, state forest nurserys, metro parks, fishing piers, fish hatcherys, wildlife areas, plus several other names that use slight variations or combinations of the aforementioned. We collaborate with numerous government agencies, departments and bureaus to bring all of America's park resources together in one easy to find location.
---
Planning Your Spring Break
Latest Information on CDC Covid-19 Main Page
Before you consider traveling on spring break this year there are important questions you should ask. Are you someone in your household or someone you will be visiting will they be at increased risk for getting sick very sick from COVID-19 when you return.
If you are planning to go on a spring break vacation it's probably wise to stick to a destination that you can drive to you as testing is required for international travel prior to departure and on your return. The Florida Department of Health, Division of disease control and health maintains a data and surveillance dashboard which provides the statistics by county in Florida.
The Miami area is currently experiencing an outbreak of the British variant of COVID-19 which extends to Fort Lauderdale and South Beach.
As of February 22nd Panama City Beach Daytona Orlando and Tampa St. Petersburg have roughly the same infection rate according to the latest data.
The Texas department of state health services is also maintaining a Covid dashboard where you can find the statistics on Padre Island which is located in Cameron county.
There is still a possibility that the Biden administration may require testing for domestic travel within the United States similar to what is currently required for international travel.
Before You Book Your Hotel
Some states like Maine still have a requirement for proof of negative test or a requirement for for quarantine on arrival.
In considering what hotel to make your reservations that you should first find out what regulations there are for Covid for the county in which the hotel is located. You should also ask specifically what cleaning processes are being used and whether or not they meet the CDC guidelines or perhaps something more stringent as recommended by the Cleveland clinic or other medical resources.
The CDC guidelines for disinfecting surfaces is 1/3 of a cup of chlorine to 1 gallon of water. Once you arrive at your hotel you might want to take a close look at what cleaning solutions and and techniques that the cleaning staff were using so you have a better idea of what the actual room conditions might be. Some hotels are listing their COVID-19 cleaning procedures on their websites if you can if you if you can't find the information on their website you should ask them over the phone prior to booking.
You may also want to ask the hotel if they have any testing resources available for you or a list of locations where you can obtain a Covid test prior to your departure for home.