City Breakaways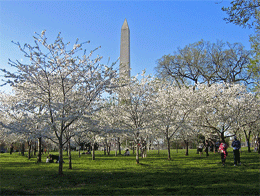 If your budget is limited and you can only afford a change of scenery for a few days, you'd should consider visiting another city. Most cities today feature is a news art museums and science centers that offer a variety of educational experiences for both children and adults. Washington DC offers a wide variety of historical and cultural offerings along with Boston and Philadelphia. Whatever the city look for the daylong sightseeing tour buses that allow you to explore at your own pace without the hassles of getting around with your car.
The Best 2021 Spring Break Staycation Spot in Each State
MSN | 3/30/21 | One of the most important travel lessons we've learned over the last year is that sometimes you simply have to appreciate what you have around you. As travel picks up more and more steam, spring break 2021 might be one of the last great opportunities to truly relish the staycation, and the following are the best spots in each state to do it.
---
Activities to do at home with the family during Spring Break
KBTX-TV | 3/21/21 | Spring Break is just around the corner and The Children's Museum of the Brazos Valley has created a list of some fun and educational activities families can do together at home. Kortis compiled a list of activities that utilize commonly found household objects that follow learning with play and S.T.E.A.M. (stands for, science, technology, engineering, art, and math).
---
Planning Your Covid Spring Break
Latest Information on CDC Covid-19 Main Page
Before you consider traveling on spring break this year there are important questions you should ask. Are you someone in your household or someone you will be visiting will they be at increased risk for getting sick very sick from COVID-19 when you return.
If you are planning to go on a spring break vacation it's probably wise to stick to a destination that you can drive to you as testing is required for international travel prior to departure and on your return. The Florida Department of Health, Division of disease control and health maintains a data and surveillance dashboard which provides the statistics by county in Florida.
The Miami area is currently experiencing an outbreak of the British variant of COVID-19 which extends to Fort Lauderdale and South Beach.
As of February 22nd Panama City Beach Daytona Orlando and Tampa St. Petersburg have roughly the same infection rate according to the latest data.
The Texas department of state health services is also maintaining a Covid dashboard where you can find the statistics on Padre Island which is located in Cameron county.
There is still a possibility that the Biden administration may require testing for domestic travel within the United States similar to what is currently required for international travel.
Before You Book Your Hotel
Some states like Maine still have a requirement for proof of negative test or a requirement for for quarantine on arrival.
In considering what hotel to make your reservations that you should first find out what regulations there are for Covid for the county in which the hotel is located. You should also ask specifically what cleaning processes are being used and whether or not they meet the CDC guidelines or perhaps something more stringent as recommended by the Cleveland clinic or other medical resources.
The CDC guidelines for disinfecting surfaces is 1/3 of a cup of chlorine to 1 gallon of water. Once you arrive at your hotel you might want to take a close look at what cleaning solutions and and techniques that the cleaning staff were using so you have a better idea of what the actual room conditions might be. Some hotels are listing their COVID-19 cleaning procedures on their websites if you can if you if you can't find the information on their website you should ask them over the phone prior to booking.
You may also want to ask the hotel if they have any testing resources available for you or a list of locations where you can obtain a Covid test prior to your departure for home.