Theme Parks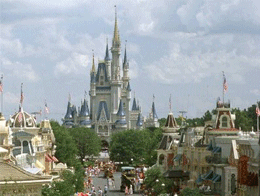 As you may have read in the news, the Disney Theme Parks have inplimented demand pricing, particularly during peak periods. Each month is divided into regular and peak days. An online calendar available will allow you to select when to visit the parks by date and pricing for that time period. If you plan to visit during a peak period, you will pay more. Purchasing a 1-Day ticket in a non-peak period, or choosing multi-day tickets and annual passes, provide additional flexibility and value.
Theme Park Resources & Deals
Spring Break 2021 News
SPRING BREAK: Universal's Islands of Adventure Has Reached Capacity For the Fourth Day in a Row
WDW News Today | 4/4/21 | Universal Orlando Resort theme parks have reached capacity multiple days this week thanks to spring break and holiday crowds. Universal's Islands of Adventure reached capacity before 11:00 AM yesterday and Universal Studios Florida followed shortly after.
---
Magic Kingdom At Capacity! Easter Crowds Flood the Park
Inside The Magic | 4/4/21 | Easter crowds have definitely arrived at Disney World! The theme parks — including Magic Kingdom — are at capacity and crowds are flooding the Most Magical Place on Earth.
---
Six Flags To Open Daily For Spring Break
Jerseyshore Online | 3/18/21 | JACKSON – From March 27 through April 11, Six Flags Great Adventure will be celebrating Spring Break as they kick off their 2021 season.
---
Now Loading Every Row on The High in the Sky Seuss Trolley Train Ride at Universal Studios Florida
WDW News | 3/18/21 | Spring break crowds are at an all-time high and the Universal Orlando Resort theme parks have been closing daily for entry this week when hitting capacity. To offset the crowds and thus the longer wait-times, it seems as though Universal has decided to loosen physical distancing measures to alleviate those waits.
---
Spring break crowds leave Walt Disney World reservations booked up
ClickOrlando.Com | 3/9/21 | According to Walt Disney World's ticket reservation system, the resort has no reservations available for any of its four theme parks from March 13 through 19.
---
Walt Disney World, Universal Studios hoping to lure tourists back for spring break
ClickOrlando.Com | 2/25/21 | Walt Disney World executives announced a new spring break deal in an effort to lure tourists back in. Universal Orlando also announced new deals ahead of the season.
---
Planning Your Covid Spring Break
Latest Information on CDC Covid-19 Main Page
Before you consider traveling on spring break this year there are important questions you should ask. Are you someone in your household or someone you will be visiting will they be at increased risk for getting sick very sick from COVID-19 when you return.
If you are planning to go on a spring break vacation it's probably wise to stick to a destination that you can drive to you as testing is required for international travel prior to departure and on your return. The Florida Department of Health, Division of disease control and health maintains a data and surveillance dashboard which provides the statistics by county in Florida.
The Miami area is currently experiencing an outbreak of the British variant of COVID-19 which extends to Fort Lauderdale and South Beach.
As of February 22nd Panama City Beach Daytona Orlando and Tampa St. Petersburg have roughly the same infection rate according to the latest data.
Before You Book Your Hotel
In considering what hotel to make your reservations that you should first find out what regulations there are for Covid for the county in which the hotel is located. You should also ask specifically what cleaning processes are being used and whether or not they meet the CDC guidelines or perhaps something more stringent as recommended by the Cleveland clinic or other medical resources.
Some states like Maine still have a requirement for proof of negative test or a requirement for for quarantine on arrival.
The CDC guidelines for disinfecting surfaces is 1/3 of a cup of chlorine to 1 gallon of water. Once you arrive at your hotel you might want to take a close look at what cleaning solutions and and techniques that the cleaning staff were using so you have a better idea of what the actual room conditions might be. Some hotels are listing their COVID-19 cleaning procedures on their websites if you can if you if you can't find the information on their website you should ask them over the phone prior to booking.
You may also want to ask the hotel if they have any testing resources available for you or a list of locations where you can obtain a Covid test prior to your departure for home.