Spring Break 2013 South Padre Island
Home of the "Two Nation Vacation," South Padre Island, Texas is located on the tip of the longest barrier island in the United States. It is rated as one of the "Top Ten Beaches" in the world, making it one of the hottest Spring Break destinations. South Padre offers lots of beachside activities each year during Spring Break. The fact that it is only 30 minutes away from Mexico is why it is called the Two Nation Vacation."

It is said that "everything is bigger and better in Texas" and Spring Break 2013 will be no exception. When you vacation on South Padre Island (SPI), you are surrounded with things to do!!
You will find windsurfing, sailing and a host of other water sports on Laguna Madre Bay to the west. You can relax on the white sandy beach on the Gulf of Mexico to the east. You can explore the Padre Island National Seashore to the north. And last but not least, you can be in Mexico in a matter of minutes.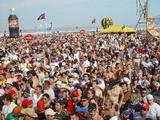 South Padre Island is a growing international destination that depends on seasonal tourism. SpringBreakers provide a welcome boost to the local economy. The town works together with corporate sponsors to create special SpringBreak events that add to the exsisting recreational activities. You will find that most of the SpringBreak events take place behind the major hotels like the Raddison Resort or Holiday Inn Sunspree.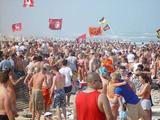 It is always a good idea to find a hotel room with a kitchen, or at least a microwave and a refrigerator. Condo rentals are also available in SPI and are a good alternitive to a hotel. Check with the tour operators, they book a lot of Condos and large blocks of hotel rooms for all the people they bring down by bus. Travel packages are available from several Spring Break tour operators. Check out the YouTube Clip.
Night clubs are another essential ingrediant for a great Spring Break and SPI has several. One of the biggest is CHAOS. It has a dance club, karaoke bar, live bands, a restaurtant , a tattoo parlor and more. Tequila Frogs overlooking Laguna Bay is one of the hottest clubs during SpringBreak. Last year they hosted the Maxim Monday event along with the MTV Real World Hosts. Another wired (WiFi) SpringBreak venue overlooking Laguna Bay is Louie's Backyard. There are a total of about ten nite spots on Padre Island, and don't forget Crazy Lazy and the other Mexican nite spots South of the Border.
Spring Break 2013 Events
To Be Announced
Top Ten Tips for Padre Island
South Padre (SPI) is only 40 miles from Mexico. You can enjoy two destinations during your springbreak.were the drinkiing age is 18 and there are no expensive departure taxes, like you fill find in Jamaica, Cancun, Acapulco and Nassau.
All (SPI) beaches are publicly owned and the consumption of alcohol is legally allowed on the beach (kegs included!). Students can BYOB and save money because you will avoid paying $8 per drink to the hotel beach bar.
There are several clubs and huge bars like Tequila Frogs, Louie's Back Yard and Chaos that help to make Spring Break in South Padre a major domestic destination for college students in the mid-west.
There are corporate sponsored events during the day by Coke with their "Sprite Re-Mix" events, the U.S. Army's "Adventure Tower" obstacle course. These events are to be found behind the larger hotels like the Radison Resort.
The drinking age in Texas is 21 but you can get into the bars and clubs if you are at least 18. And yes, the bars and clubs are very strict on IDs. If you are under 21 and want to be legal, head to Mexico.
Expect to spend between 200-300 dollars during your trip.
Remember to protect yourself with SPF 15 Sunblock for day.