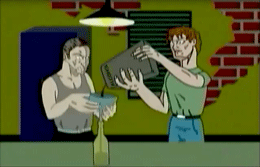 Before You Drink | Some Facts About Alcohol in Mexico
The U.S. State Department has issued a Safety warning about tainted alcohol comes in the wake of a Milwaukee Journal Sentinel investigation surrounding the death of University of Wisconsin student Abby Conner while on vaction with her family in January.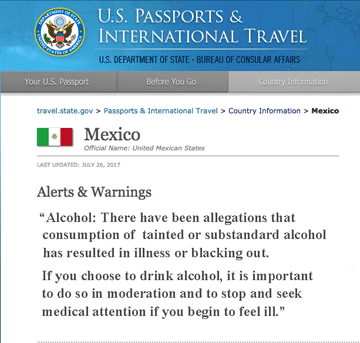 In response to the US State Department Warning, the Federal Commission for Protection against Health Risks (Cofepris), in close coordination with the Federal Government's Tourism Secretariat carried out a special operation in the state of Quintana Roo where Cancun is located. In total, 31 establishments were inspected: 14 in the Playa del Carmen resort area and 17 in Cancún. Commercial activity was suspended in two establishments and 344 liters of alcohol were seized.
"We are concerned as an industry," Geraldo Ancira, the director of the Commission for the Wine and Spirits Industry. "Tackling [the] illicit alcohol trade in Mexico is one of our most important tasks."
Director Ancira added that Mexico's counterfeit alcohol market is partially inspired by the country's steep taxes on spirits, citing a 53 percent excise tax as an example.
Any complaint related to irregular alcohol should be reported to the Federal Commission for Protection against Health Risks, the Toll-Free number for Cofepris is 01-800-00335050 and the email: contactociudadano@cofepris.gob.mx
What is Adultered Alcohol
There are four types of adulteration of alcoholic beverages:
THE DECREASE OR OMISSION. Which adds to a legitimate product amounts of a substance of similar characteristics (which go unnoticed) in order to increase or decrease its volume or weight, generally of lower value.
SUBSTITUTION: replacement of some components with others of similar physical and chemical characteristics, eg methanol by permitted ethyl alcohol.
DECREASE: reconditioning of a product in order to eliminate the apparent defects of the products. That is, when you add things like syrups and candy to hide the taste of a defective product. This can be legal up to a point.
Finally, noncompliance with good quality control practices in production means that certain minimum requirements (such as hygiene) are not being met, which is to deprive the product of the minimum safety measures in production and QA. Some companies do not perform certain checks to save payroll, for example.
How To Detect Adulterated Drinks in Mexico
You should keep the following recommendations in mind before buying and consuming any liquor:
-Don't buy homemade liquor, generally it is produced under unhygienic conditions and with rudimentary equipment using raw materials of unknown quality. It does meet any health standards for human consumption.
- Purchase quality liquor at authorized or trusted vendors, preferably make your purchase at chain stores, or legally established stores in the city you are visiting.
-In public places, demand that the bottle of liquor be delivered to you before iit is opened it and verify that the container does not have any alterations of color or look as if the bottle is being reused, check the bottom of the bottle to make sure that it does not contain any sediment, dirt or foreign particles. Adulterated liquor frequently has impurities from the sub-standard bottling process.
-Watch your bartender to see if they destroy or tear the product labels to avoid reuse to prevent the re-use of empty bottles.
-Request that the bottle you purchase is opened in front of you so that you can verify that when the safety band is split it is in equal parts.
-Check that the bottle has no leakage.
-Check that the labels are not in poor condition, examine the tax stamps and try scratching them. Make sure they have not been altered.
-Check that the covers, labels, seals and counter-markers inside the product are in good condition and are not defective.
-If possible, when you are finished with the bottle, destroy or tear the product labels to avoid reuse.
If you should ingest liquor without knowing its origin and authenticity you begin to feel nausea, have decreased visual acuity, abdominal pain, vomiting and a headache, go immediately to the nearest health center. When you arrive at your hotel, it may be a good idea to find out where the nearest hospital is located and what payment they require for admission.
Consumption of adulterated liquor an generate drowsiness, stupor and in extreme cases coma and death.
More information to follow as it becomes availabe.