Spring Break 2016 News Links
Check Out Our Spring Break 2016 Site
Passports - Apply or Renew Sooner than Later..
NY Times 1/26/16 - If you need a passport for Spring Break 2016, the State Department is expecting a flood of renewals and first-time applications.
---
It's Never Too Early to Plan Your Spring Break Travel
Yahoo News 1/15/16 - Booking early comes with a whole host of benefits. Here is why:
---
Making Spring Break 2016 in Padre Island Bigger & Better
Padre Island 1/7/16 - CMG Media, Isla Grand Resort, Studentcity & Global Groove are partnering together to bring more events to Padre Island for Spring Break 2016.
---
Is Spring Break 2016 in Cuba Possible? How to do it.
---
Dirty Granddpa | A Spring Break Sex + Drugs + Aging Comedy
Lionsgate is scheduled to release a raunchy road trip pic "Dirty Grandpa" featuring Zac Efron, Robert De Niro and Parks and Recreation's Aubrey Plaza
---
Cuban expedition to take off Spring Break of 2016
LARIAT 9/26 - It's a good time to get Cuba on your radar. For the first time, Saddleback College is offering a unique opportunity to spend spring break in Cuba. The trip will be a total of ten days and will visit five Cuban cities.
---
PCB Still Spring Break Capital of the World
PRWEB 9/15 - Panama City Beach's local business owners are all united in our effort to provide students with a fun, safe and memorable Spring Break 2016 experience.
---
New 'Spring Jam' proposed in Panama City Beach for 2016
PCB to invest about $1.7 million in expenses to put on "Spring Jam" event to be held March 31 through April 2.
---
Last Years News Links
GERMANY | Spring Break Fever Rises: Already Thousands at Goitzche
Despite clearly lower temperatures than in the previous year it attracts visitors to the "Spring Break" this year!
---
Texas DPS to increase patrols beginning March 7th to 22nd
DPS will increase drinking-while-intoxicated patrols from Saturday to March 22, coinciding with one of the busiest spring break periods in Texas.
---
See Youtube clip on new requirement to fence off events on the beach.
USF Oracle | Spring Break 2015 Planning Guide
Spring break is only a few short weeks away, use these tips and tools to maximize your time and money while you put down the books for a week.
---
Luke Bryan's free spring break shows in Panama City Beach to end after 2015
"Last year was just amazingly over the top, I think somebody said there were over 200,000 people on the beach. It'll be that way again this year, and we just wanted to end it on a big bang."
---
Panama City Passes Three(3) New Ordinances for Spring Break 2015
The first requires bars to close at 2 a.m. in March instead of 4 a.m.; another requires picture identification to drink alcohol on the sandy beach; and the third forces club owners to hire additioan security for Spring Break 2015 events.
---
Southwest Airlines Adds International Routes for Spring Break 2015
Southwest Airlines will begin flying to two more international destinations, adding service to the Mexican resort cities of Cancun and Cabo San Lucas in time for Spring Break 2015.
---
Panama City Considers banning Alcohol On the Beach for Spring Break 2015
The Panama City Beach Council moved forward with 16 out of 20 measures to tighten regulations for college Spring Break. The council did throw out one of the most substantial changes, a ban for alcohol on the beach.
Last Years News Links
Healthy do's and don'ts for Spring Break travel
Boston.com - Last Year | Here are some do's and don'ts to keep in mind so your travel plans don't have an unfriendly interruption.
---
9 Crazy Spring Break Horror Stories
New York Post - Last Year | Check out some of the craziest Spring Break confessions from previous years...
---
Spring break at Lake Havasu 2015
The Republic - Last Year | Lake Havasu's desert oasis atmosphere attracts students from more than 100 different universities...
---
Spring break in Mexico: The never-ending party
Examiner - Last Year | American visitors have great 24/7 tourism services at low cost in a safe environment, in spite of some media warnings.
---
Classic Spring Break Photos: Spring Break in Central Florida through the years
Orlando Sentinel - Last Year |take a look at some classic Spring Break moments from Daytona Beach and other areas of Central Florida through the years.
---
Tips to Safe Spring Break Travel for College Students
CBS DC - Last Year | The following tips can be used no matter where your travel plans take you.
---
The 10 Best Spring Break Destinations
Travel Break Blog - Last Year | Sorry guys, college is your life vacation… so party up while you can. Make it count, at one of these Top 10 Spring Break destinations...
---
Spring Break Survival Guide: Dos and don'ts to see you through the wildest week on SPI
The Monitor - Last Year | Are you thinking of braving the traffic and tourists to spend your Spring Break at South Padre Island? If so, you should know what you're getting yourself into — aside from novelty shops and various body-part-shaking contests.
---
Spring break 2015: How To Score The Best Travel Deals
USA Today Last Year - Here are some strategies for beating the high cost of getting to a place in the sun...
---
The 3 Hottest College Spring Break Partiesk
Tavelers Today Last Year - If you are still in the planning stages of your spring break vacay (we hope), here are arguably the three hottest destinations...
---
Top Five Travel Tips for Spring Break 2015
State Department February 24, 2015 - U.S. Department of State encourages students to follow their tips for traveling abroad...
---
Best Places to Party on Spring Break
Outside Magazine Last Year - Brought to you by the authors of "101 Places to Get F*cked Up Before You Die"...….
---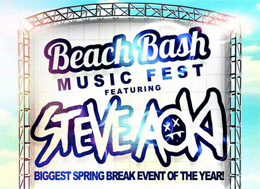 Steve Aoki to Headline Panama City Beach Bash Music Fest
Collegiate Marketing Group Last Year - Grammy Award nominated DJ Steve Aoki will headline to Perform at Sharky's Beach Bash Music Fest during Spring Break 2015....….
---
March Concert Schedule Announced for Holiday Inn -
Holiday Inn Resort (PRWEB) Last Year - DJ Skribble, Robbie Rivera, and the EC Twins to preform on Wednesdays during Spring Break 2015....….
---
Panama City Beach Police prepping for Spring Break
News Herald Last Year - PCBPD officers will move to extended 12-hour shifts March 7 and continue through about the second week in April.......
---
Panama City considering increase in Spring Break 2015 marketing
News Herald - Last year, the Tourist Development Council (TDC) spent $50,000 to market Spring Break through a co-op with Collegiate Marketing Group. This year, the company is requesting double that amount......
---
Where does SpringBreaker's actress Vanessa Hudgens go for Spring Break?
Marie Claire — Armed with nothing more than a bikini, some killer sunglasses, and a team of Oakley pros, the busy actress headed to Bali for an adventurous getaway.....
---
Money Lessons: undergrads say their budgets did not make the grade
Wall Street Journal — Student debt can quickly escalate in a number of different ways, like dipping into the semester's food budget for a Spring Break vacation.....
---