Top Cruises for 2013
One of the most popular ways to spend your time during Spring Break is the Bahamas Party Cruise. Appalachia Travel is offering this popular package for Spring Break 2013. The major Spring Breaktour operators book just about all the available space on board, so it is really a Spring Break party experience with hundreds of other students on their way to the Bahamas for Spring Break.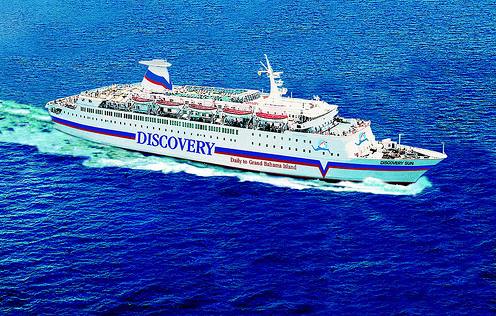 Your Spring Break adventure begins with a morning departure from Port Everglades in Ft. Lauderdale. The cruiseship is just like the ship you may have seen on MTV Spring Break. It's called the Discovery! The trip from the U.S. to Freeport, on Grand Bahama Island takes 6-7 hours. While on board, you can party poolside, gamble in the casino, or hang out in one of the many bars. It is one huge party with hundreds of other college students on their way to the beach!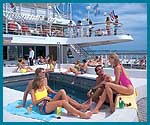 The ship also has a number of restaurants. Most of the tour packages include 4 nights / 5 days in a hotel of your choice and transportation from the ship to your hotel. Meals and other activities vary depending on the tour operator you choose. Because the space available is limited, the longer you wait, the more money it will cost. The most popular hotels at the most popular destinations on the island sell out first...then, the availability begins to dwindle. So, prices go up and people pay more.
After 5 days of fun and sun in the Bahamas you cruise back to Fl. Lauderdale on the cruise arriving sometime between 9-11pm. Most tour packages include the roundtrip cruise, roundtrip taxi transfers, hotel in the Bahamas for 5 days. Meals, parties, drinks, cover charges and taxes may vary depending on the tour operator, so be sure to check on the specifics.
Passports Mandatory
Travel outside the United States now requires a U.S. Passport for re-entry when you return home and many countries also require a passort for entry. Remember it takes six weeks after you submit your application.
Port Everglades Aerial
Port Everglades Map
Directions to Main entrance.
Take I-595 East straight into the port (I-595 become Eller Drive once inside the Port). I-595 runs east/west with connections to the Fort Lauderdale/Hollywood International Airport, U.S.1, I-95, State Road 7 (441), Florida's Turnpike, Sawgrass Expressway and I-75.
Directions to North entrance.
Take U.S.1 or A1A to 17th Street Causeway in Fort Lauderdale and turn south at the streetlight onto Eisenhower Blvd. US1/Federal Highway entrance. At the intersection of State Road 84 East and U.S.1 (Federal Hwy.), turn east into the seaport.
Click on Map for larger image.